Blockchain gaming surpassed $6 billion in trading volume in the first quarter of 2022, according to the latest report by Footprint Analytics and DeGame. The study highlights top chains by transactions, as well as analyzes GameFi tokens liquidity and fundraising amounts.
Key takeaways
Total trading volume in blockchain gaming was $6.3 billion. Harmony accounted for 48.58% of this sum, followed by Ronin (26.85%) and BSC (14.25%).

Ethereum placed sixth, with a total trading volume of $73.8 million (1.1%). It is due to high gas fees and slow speeds, which lead to games launching on other chains.
Gaming volume by chain in Q1 2022
Total number of players was 1.2 million, which is similar to the fourth quarter of 2021.

Compared to the beginning of the quarter, the market cap of GameFi tokens fell around 15%, from $21 billion to $18 billion

The WAX blockchain generated $1.46 billion, accounting for 77.7% of the total GameFi transactions. 92.5% of all transactions on this chain came from two games,

Alien Worlds

and

Farmers World

.

WAX was followed by Hive ($225 million, or 11.9%) and BSC ($37.8 million, or 2%).

Ronin is fully occupied by

Axie Infinity

, which reached 4.7 million players and generated $10.8 million in the quarter.

Monthly number of games released
GameFi tokens accounted for 17.8% of 157 tokens listed in Q1 2022.

GMT had the highest daily trading volume in the market of almost $100 million. It is the governance token for

STEPN

, the so-called "move-to-earn" running app, which is now the best performing blockchain game in terms of token liquidity.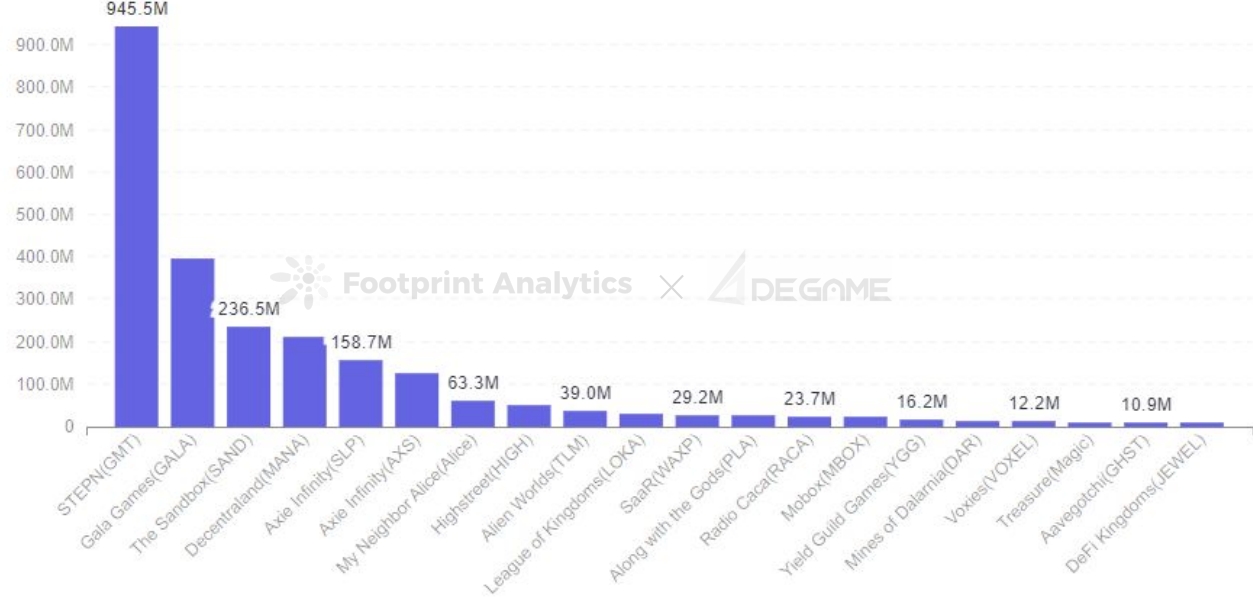 Average token volume
During the first quarter, GameFi projects raised a total of $1.126 billion. It is up 194.1% year-over-year but down 40.78% compared to the previous quarter.

GameFi funding amount
Independent games accounted for 61.17% of total rounds raised, followed by game platforms (26.2%) and metaverse (4.85%).

Game platforms, however, raised the most money, with $551 million (48.9% of the total funding amount). They raise around $20 million on average, compared to $4.55 million for independent games.
The full report can be found here.