The general interest in blockchain games is growing globally, according to a new survey by Newzoo. However, developers must better educate players and remove barriers that prevent mass adoption of Web3 gaming.
The survey is based on responses from 4,569 gamers across the US, UK, and Indonesia. Newzoo targeted people who play games on console, mobile, or PC.
Key takeaways
40% of gamers in the US, UK, and Indonesia are generally interested in blockchain games. They will likely try one of them this year.

However, only 5% of this group is "highly interested" in this segment, with 35% of players being moderately interested in blockchain gaming.

It indicates that blockchain gaming still has a lot of barriers and unresolved issues that prevent mass adoption.

Only 33% of moderately interested players have a basic knowledge of blockchain games, compared to 50% of highly interested gamers.

Another problem that stops people from trying blockchain games is the lack of knowledge about crypto and NFTs.

On top of that, players ask for a lower cost of entry, with a lot of users still thinking that all blockchain games require upfront investments like

Axie Infinity

.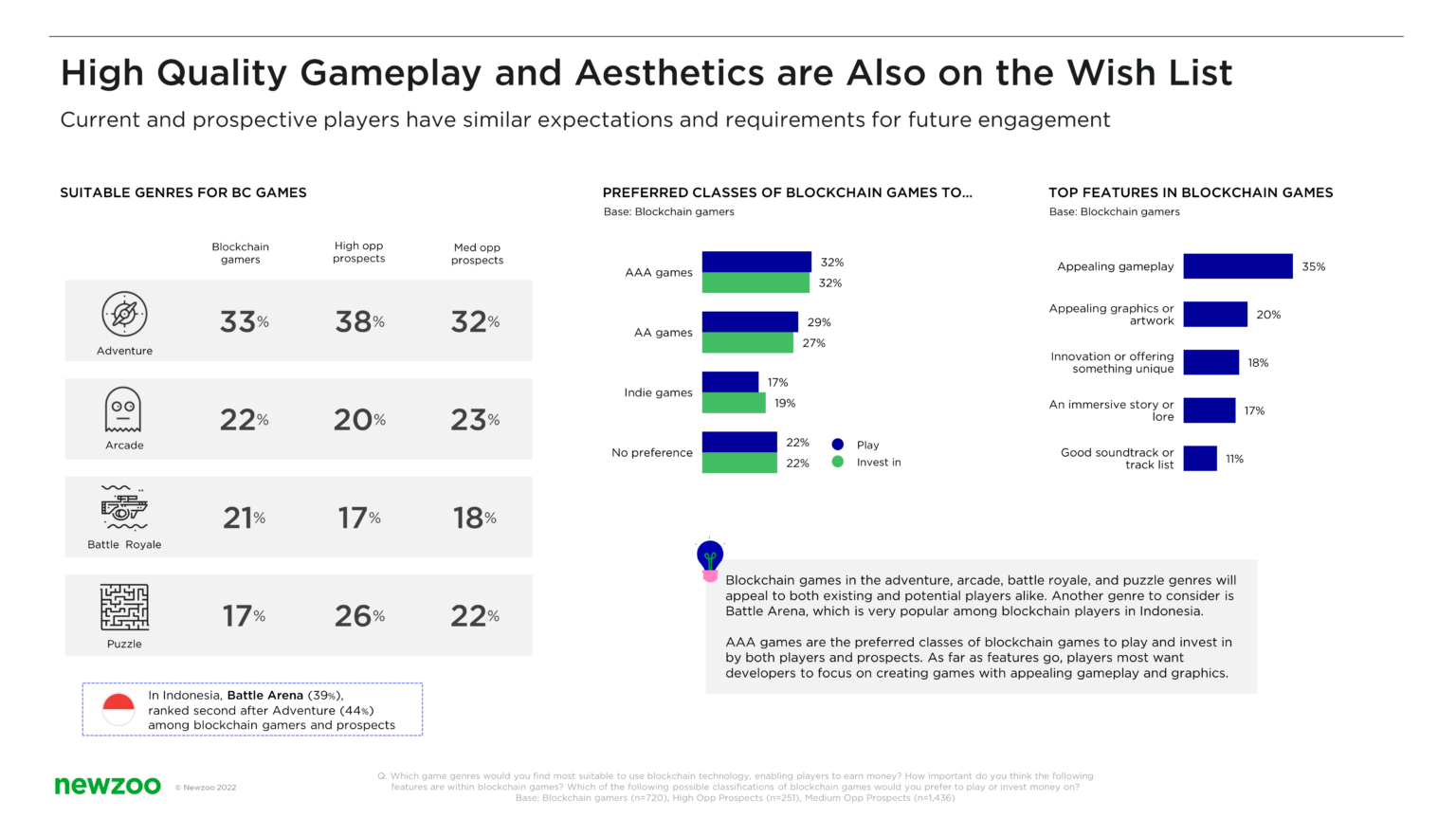 All these things lead to 46% of moderately interested players being afraid of losing their money (compared to 32% of highly interested gamers). This means that developers must inform gamers about risks and be more transparent to attract a mass audience.

It is worth noting that highly interested and moderately interested players seek different things in blockchain games. The first group pursues profit, while more casual gamers want games to be fun in the first place.

Newzoo thinks that one of the best strategies to help mass adoption is to create "high-quality games that 'just happen' to feature blockchain" (play-and-earn, not play-to-earn).

According to analysts, AAA publishers should now minimize the use of terms like "blockchain", " crypto", and "NFT" in public communications, as they could discourage core players and lead to fan outrage.
More insights about the audience and their preferences can be found in the full report.