Spider Tanks' fans may finally rejoice and mark the date, as the company has announced the release for October 31, 2022. What is special about the upcoming game that makes it worth waiting for?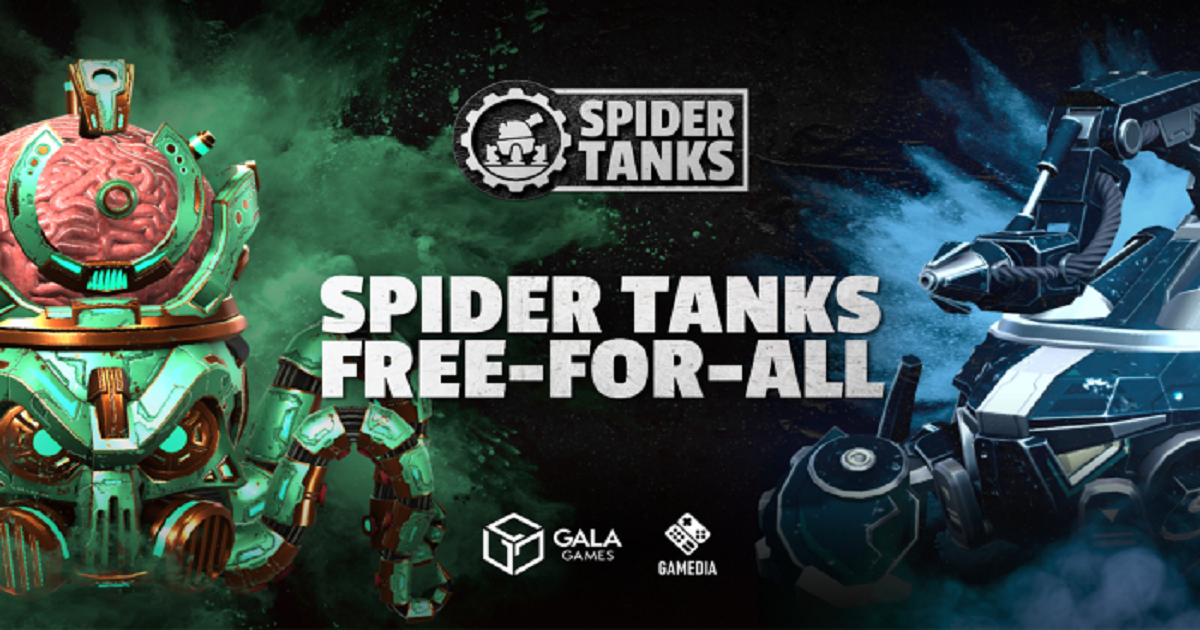 What's Spider Tanks?
Gala Games' much-anticipated child, Spider Tanks is a play-to-earn fighting game offering the players to explore the tank force by designing and upgrading their own tanks, combatting on several scenic battle arenas, and claiming rewards for their team's fortunate deathmatches.
The game is developed by the Netherlands-based GAMEDIA collective creating multiplayer games for PC, mobiles, and consoles, along with VR and AR apps. Spider Tanks is free to play, features PC and Mac versions, and allows the players to own their estates (for instance, PvP maps to hold battles) and earn real rewards for their in-game victories.
Spider Tanks is set to be the world's first eSports blockchain-based brawler game. This beat 'em-up action game offers different ways of engaging in fighting enemies. "Pilot" mode will allow you to control your Spider Tank directly while fighting in the PvP Maps, "Captain" will make you an owner of your private Spider Tank pilots army, while being a "Baron" will enable the players to gain rewards from the fights happening on their own maps.
What's so special about the game?
Apart from being the first Web3 PvP esports brawler game, Spider Tanks is the Gala Games' freshest offering and, probably, the most ambitious one: its release is going to boost the launch of the GYRI project – the company's proprietary blockchain.
The developers promise a rich player-versus-player (PvP) gameplay experience comprising various game modes, each entangling different strategic and team-based challenges, as well as efficient play-to-earn mechanics offering customizable collectibles.
The newest project of Gala Games already has plentiful extras for players to enjoy before the official release: among them are several Spider Tanks Planetary Nodes already on sale. The players applying these nodes will receive in-game rewards and at the same time foster further development of the Gala Games ecosystem. Among other collectibles currently on sale is the special Snoop Dogg's Bampin' Lowrider, an upgraded tank item designed to mark the release of the rapper's first NFT album.
Aside from pursuing their own place in gaming history with the first-of-its-kind play-to-earn Web3 brawler, the developers strive to make it accessible for every player, no matter the in-game purchasing: "Both players who play for free and those who choose to make purchases can be rewarded for their efforts," claims John Osvald, President of Games at Gala Games.
What is Gala Games famous for?
Gala Games is a Madrid-based blockchain gaming company founded in 2018 and specializing in developing play-to-earn and NFT games. The company, with its CEO Eric Schiermeyer (also the co-founder of Zynga), is a well-established name in the decentralized gaming industry, known as one of the pathfinders in implementing the idea of player-owned items and digital assets into the gameplay.
Today, the Gala Games platform covers a range of game genres including multiplayer online battle arenas (MOBA), real-time strategies (RTS), role-playing games (RPG), etc., and boasts its own native token called GALA, which is used for in-game purchases or as a means of rewarding the players.