The Sims and Spore creator Will Wright is back in the game business with the new metaverse project VoxVerse promising "a unique and immersive" cross-game experience. Let us see what his team is preparing for gamers and whether it will astound the well-nourished Web3 game industry.

What happened?
The Hall of Fame game designer Will Wright has hardly released any high-profile projects since 2008 – the release time of Spore, a life simulation real-time strategy game that proved successful, yet did not overlap a franchise like "The Sims".
In June 2022, a post appeared in Gala Games' blog reporting a deal between Wright, the cross-platform game engine Unity, and Gala, all three united to support the development of the forthcoming project called VoxVerse.
In October 2022, Gala Games launched an over-hour-long stream with The Sims' designer sharing his grand plan of elaborating on VoxVerse. Later on October 20, Gala published a video in which Wright walked the audience through the concept of his most recent game.
What is already known about the VoxVerse?
VoxVerse is so far Will Wright's latest work in progress and an upcoming full-scale metaverse game being developed by Gala Games along with Gallium Studio.
Technically speaking, it is a blockchain-based metaverse-type game that incorporates NFTs and Crypto into free-to-play philosophy.  Players will have a variety of in-game lands and assets to choose from and own on the blockchain.
One of the game's core features is that it will unite multiple VOX characters from various universes including DreamWorks Trolls, AMC's The Walking Dead, and Gala Games' Mirandus and Town Star to all "thrive in play-to-earn glory". Providing in-game portals to other big projects is thus destined to make it "not only a world for games but also a place for the games to live", according to what Will Wright shared in the video.
The central city of this cube universe, Voxopolis, will be the main in-game location binding themed-based player-built districts together and at the same time the nexus for several diverse environments like deserts, oceans, mountains, and tropical forests.
The metaverse residents, or the Voxers, will be represented by digitally collectible cubic-shaped characters sold as NFTs by Gala Games. The game is said to have a well-developed social economy and focus on building relations between the three main types of players: the landowners who will purchase digital land for cryptos, the creatives renting out the lands, and free-to-play gamers.
To advance the simulation game mechanics, the characters will acquire possession of individual needs such as fame, trust, support, and so on – a thing apparently inspired by Wright's decade-long devotion to The Sims.
The game has so far attracted over $25 million in investment, yet its release is still to be announced.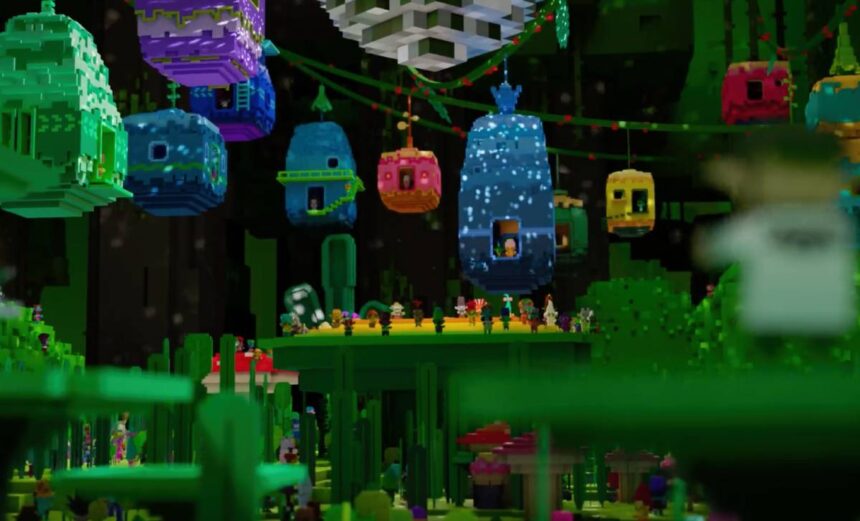 What are Wright's goals and ambitions with VoxVerse?
As Will Wright pointed out in a recent interview, with VoxVerse, he does not want to be "in the business of selling NFTs," yet instead he is striving to introduce the new metaverse to a bigger public.
The game, according to Wright, is going to have an emphasis on "creating a blockchain environment where players may conduct transactions securely" rather than toying with the Web3 trend. "I'm much more interested in attracting a million free-to-play players than, you know, 10,000 rich whales, although we could use those rich whales," claimed Wright.
The game design is said to be an apparent priority for Wright, and he aims to make it engaging and "fun-first". Besides, the game is going to have somewhat a peculiar author's touch, which Wright himself defines as "shape grammar": it will represent a "kind of an evolutionary system" in the process of item creation that will allow players to repeatedly transform a starter object to by personalizing and even "patenting" it through blockchain in terms of revenue-generating further use.