According to the latest report issued by Binance Research, the Binance blockchain ecosystem has dominated the GameFi industry for the third quarter of 2022. Let us have a look at the current state of the Web3 market in greater detail.

What happened?
The latest "State of Crypto" report by Binance Research, the research branch of cryptocurrency exchange Binance, was issued in October and presented a comprehensive overview of the crypto market conditions for the whole third quarter (Q3) of 2022.
According to the report, autumn 2022 has been a "rough quartier not only for cryptos but also for NFTs": for instance, NFT prices were not far from hitting all-time lows, for both ETH and USD, and the NFT sales dropped down by 73%, while the price performance for the sector of NFT games decreased by 19%.
The report yet revealed some generally positive tendencies, such as the increase of crypto market capitalization by 8.4% in Q3 compared to September's market cap plunge of -5.0%.
As for the gaming market, Binance's own native blockchain ecosystem BNB managed to outpace Ethereum and Polygon by market share in the Web3 gaming sector and thus gained leadership in the blockchain game industry.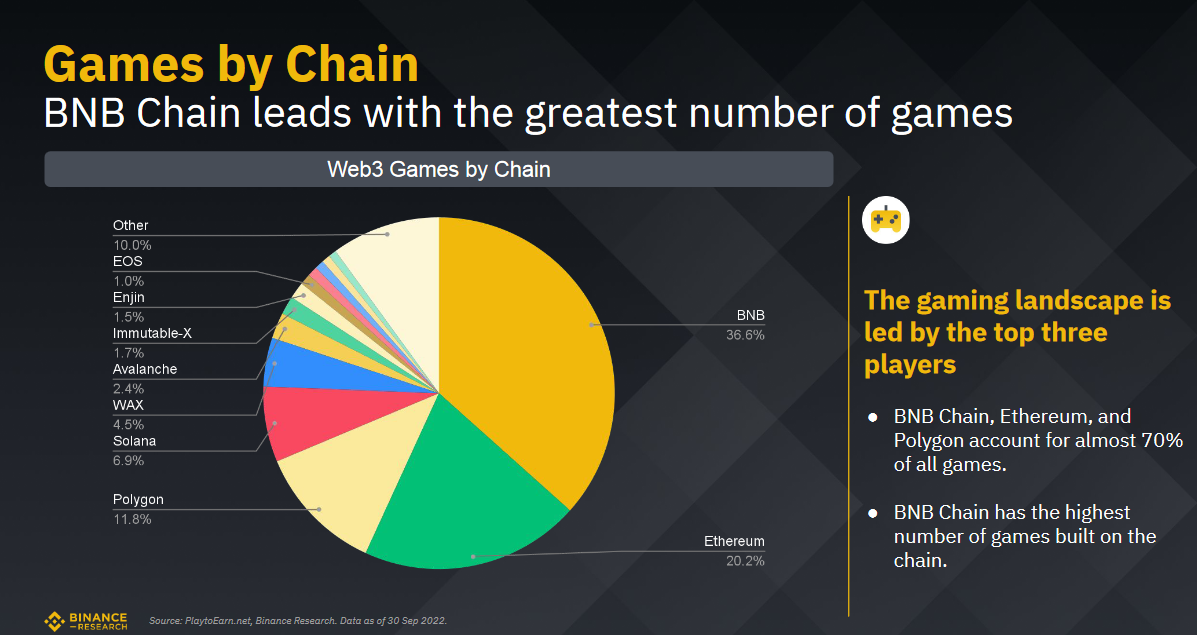 Key takeaways for the GameFi industry
The State of Crypto report has demonstrated that the majority of Web3 games are still under development, with about 30% of games currently at their "live" stage. Despite that, a relatively small share of GameFi projects has been canceled, and many games are undergoing their Development, Alpha, or Beta phase, despite the generally unfavorable market conditions.
BNB Chain has dominated the GameFi sector, having the highest number of games built on this chain and accounting for 36.6% of games in terms of market share. The second and third places were taken by Ethereum and Polygon, respectively. At the same time, BNB Chain, Ethereum, and Polygon altogether comprise about 70% of all games.
The leaders in the blockchain game industry became Web or browser-based games, proven by over 1,000 new titles issued in Q3, while Android was called the second most popular platform for GameFi releases.
In terms of the game genres, Action, Adventure, and NFT collectibles became the most popular ones with the biggest number of game titles issued in the third quarter. At the same time, strategy, RPG, and card games took the 3rd to the 5th places, respectively, leaving Educational and Escape games at the very end of the list.
Gameta, Alien Worlds, and Benji Bananas were called leading the play-to-earn pack and the top three games by the number of active users.
As for the Metaverse gaming, The Otherside, The Sandbox, and Decentraland topped the ranking by market cap as of the beginning of Q3.