Ubisoft has partnered with Aleph.im, which will provide decentralized storage for the company's dynamic NFTs. It means that the game publisher still has no plans to give up its blockchain ambitions despite all the backlash.
Aleph.im's solution will be used as file storage and database hosting for the Ubisoft Quartz platform where players will be able to buy the so-called "Digits" and use them in AAA games.
Ubisoft blockchain technical director Didier Genevois told VentureBeat that the company is aware of all the negative feedback it received over the last week. However, the company won't stop pursuing its NFT goals and experimenting with blockchain.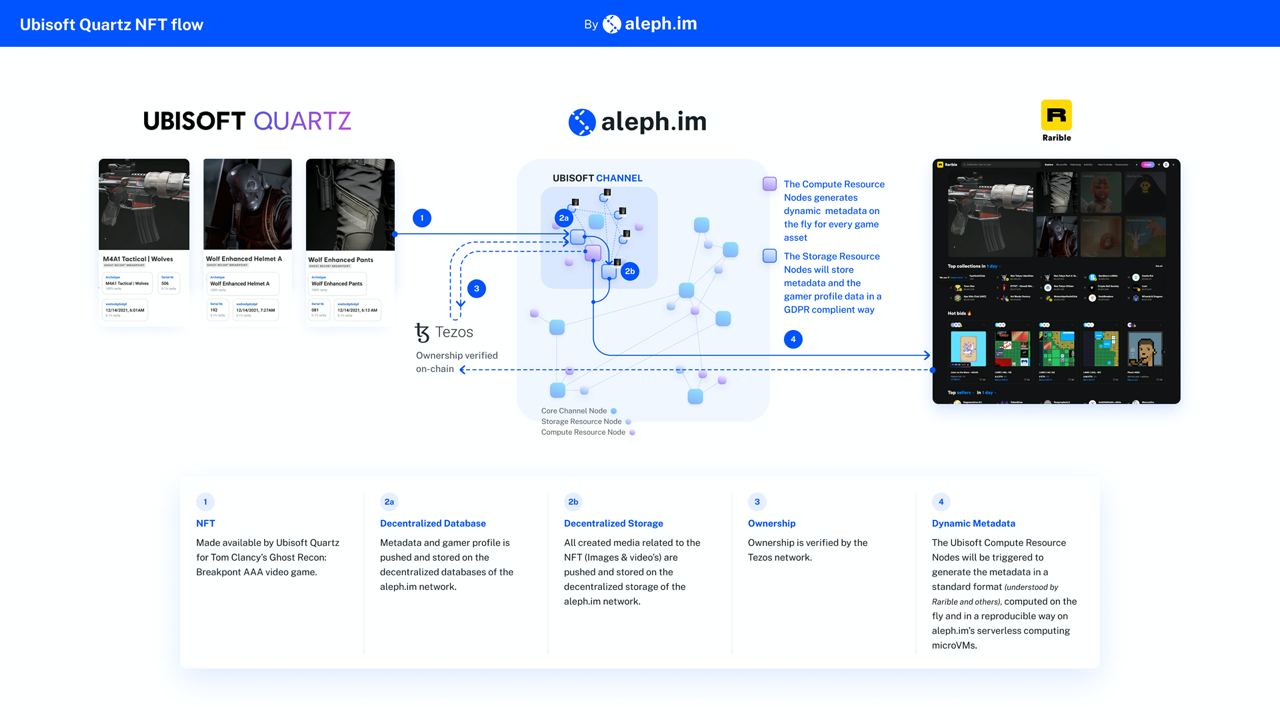 The flow of Ubisoft Quartz NFTs
"We know it is a major change that will take time, but we will stay true to our three principles which are: use the tech responsibly: building a safe environment for players to get acquainted with these new possibilities; only leverage energy-efficient, proof-of-stake blockchains; and focus on meaningful value propositions for players that benefit their gaming experience," Genevois said.
According to Aleph.im, the partnership with Ubisoft will let people see the so-called dynamic NFTs. They will evolve over time as more players use them in-game and trade with each other. Aleph.im's technology will help change the NFTs metadata, tracking their dynamic and history.
Ubisoft has been exploring this blockchain technology for four years, trying to find a single solution that can be applied to AAA titles.
The Quartz platform was introduced earlier this month and caused controversy among the gaming community. A video announcing the solution received more than 95% disliked on YouTube. On top of that, there have been only 15 sales of NFT items for Tom Clancy's Ghost Recon Breakpoint worth less than $400.